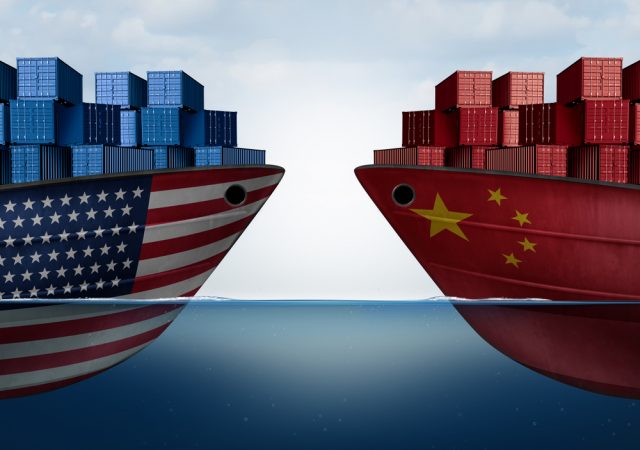 Warren Buffett stated earlier today that a trade war involving the United States and China would most definitely be a good thing. Buffett spoke on the matter after United States President Donald Trump tweeted yesterday that he will be lifting tariffs on $200 billion worth of Chinese imports, up 25% from 10%. Trump further stated that he would soon be adding a 25% tariff on $325 billion worth of Chinese merchandise that has not yet been taxed.
Major stock markets took a hit around the world today in response to that tweet, which came before scheduled trade talks later this week. On CNBC television, Buffett referred to the tweet as a "rational" response coming from the President. Buffett's Berkshire Hathaway either owns or invests in several companies that conduct business in China, including Apple, in which holds a stake of over $50 billion, and Chinese electric car manufacturer BYD Co.
Also speaking to CNBC, Berkshire Vice Chairman Charlie Munger, stated that President Donald Trump was not "totally crazy" for desiring increased tariffs on certain goods, but that an actual trade war would in his opinion be "massively stupid." In spite of concerns, Buffett stated that it would be "nonsense" for investors to begin selling stocks based solely on negative headlines. Adding that the U.S. and China will each be top superpowers for at least the next 100 years and will remain in direct competition.
Buffett also stated that these battles would have no impact on how Berkshire operates. The company currently owns over 90 different companies including utilities, industrial parts and chemicals producers, Geico automobile insurance and the Dairy Queen restaurant chain, and closed out the month of March with $191.8 billion in equity investments. Buffett went on to say that the trade dispute has already made an impact on Berkshire's BNSF railroad.
Trump also tweeted on Monday that the U.S. has for several years lost approximately $600 billion to $800 billion each year on trade, with China said to account for 500 Billion of those dollars. The President made it clear that such losses would not be acceptable going forward. Buffett stated that theses types of statements in advance of trade negotiations was understandable to some degree.He added that the planned tariffs would most definitely raise the stakes for China.
In relation to the matter, Jim Weber, CEO of Berkshire's Brooks Running unit, stated in a recent interview that his company would be ceasing most of its shoe production in China and relocating it to Vietnam due to tariff concerns. Buffett suggested that the United States should work on its trade relationship with both Canada and Mexico, highlighting that the countries share common interests and that trade with each is extremely important. He added that, "We should treat them as neighbors, and not adversaries."