Looking for a better way to trade? So were we.
NO TIME TO FOLLOW THE MARKET?
DITTO SOMEONE WHO DOES.
Every day, traders are watching the market or doing research to trade intelligently. It takes the time most people don't have. Fortunately there's a solution.
Ditto Trade's technology allows you to be part of the actual trades that others make themselves. Or you can receive actionable alerts that you can act upon.
The Trading services you can follow range from professional traders, registered investment advisors, trading and alert services, to even a friend or family member.
EVERY TRADE AND ALERT CAN BE AT YOUR FINGERTIPS
Follow a service and receive trade notific-
ations on your mobile. Take control of any position if you want.
Or you can have trade alerts directly to your phone and have the choice to "Ignore", "Modify" or "Accept" the trade. Learn more.
FIND A SERVICE WHOSE STYLE MATCHES YOURS.
We mean trading style. The beauty of Ditto Trade is you are not limited by who you can follow; they can be existing services you can search for here. Or you can invite a trader on StockTwits, a blogger you follow or even someone you know. Sweet.
LAUGH ALL THE WAY TO THE BANK.
Option trades are just $6.95 plus $0.75 per options contract. And margin rates? You
can start laughing now. Learn more.
DITTO THE TRADES OF SOMEONE YOU KNOW.
Do you have a friend or family member with a knack for trading? You can take part in the same trades as they do.
SOMETHING EVEN CONTROL FREAKS WILL LOVE.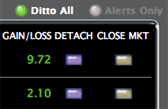 Our technology lets you take control of a trade at anytime by either closing it at market price immediately of detaching the trade from the Lead trader and selling it at a time of your choosing. You also have the choice of sitting out of all trades for a bit, if you like. Learn more.
Sounds great? So, let's go!
​​